The Importance of SEO for Emergency Restoration Companies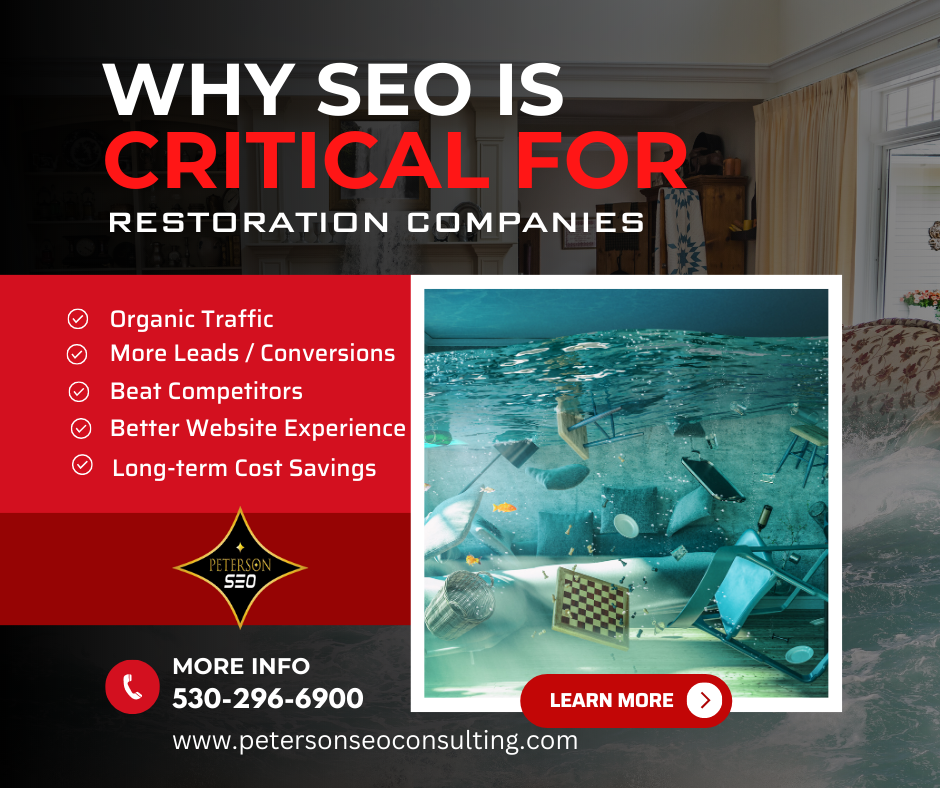 As a property owner, nothing is more frustrating than facing an unexpected emergency that requires immediate attention. In these situations, you want to reach out to the right emergency restoration company as soon as possible for quick and efficient help. But have you ever wondered how those restoration companies prioritize their clients and respond to urgent situations so quickly? The answer lies in proper website optimization and a good SEO strategy. In this article, we will delve into the importance of SEO for emergency restoration companies and how it can make a crucial difference.
1) Higher Visibility on Search Engines
When a property owner faces an emergency, they are more likely to search for a local restoration company on a search engine such as Google, Yahoo, or Bing. If your emergency restoration company has a well-optimized website and an effective SEO strategy, it will appear at the top of the search engine results page (SERP). This means that your company will have much higher visibility among potential customers, leading to more organic leads.
2) Cost-Effective Solution
While ads and paid leads may work faster, relying entirely on these methods can be costly in the long run. Once you stop paying for leads and ads, the leads go away, and you will need to start over. However, by investing in proper website optimization and a good SEO strategy, your emergency restoration company can get organic leads without the need for paid ad campaigns or lead service programs. This makes SEO a cost-effective solution and an investment into the future of your company.
3) Differentiation from Competitors
SEO is not only about ranking higher on search engines; it also involves creating a unique website and content that stands out from the competitors. A well-optimized website with high-quality content will create a positive impression on potential clients and differentiate your emergency restoration company in a crowded market. By creating an attractive website that meets the needs of your clients, you will not only get more organic leads but also increase your chances of retaining those clients.
4) Quick Response Time
During emergency situations, time is of the essence. Property owners need immediate assistance and cannot wait for restoration companies that are slow to respond. A well-optimized website with good SEO will ensure that your emergency restoration company appears at the top of search engines, providing immediate assistance to your clients. This will help you stay ahead of your competitors and make sure you answer those crucial calls quickly.
5) Guaranteed Return on Investment
Investing in proper website optimization and a good SEO strategy might take some time to show visible results, but it is a guaranteed return on investment. As your website starts to rank higher on search engines, you will start to receive a steady stream of organic leads that you do not have to pay for. With good SEO, you will be able to reach a wider audience and maximize your profits while building long-term relationships with your clients.
In a nutshell, SEO is essential for emergency restoration companies to ensure they remain visible, differentiated, and quick to respond during critical situations. By investing in proper website optimization and a good SEO strategy, you can get organic leads without the need for paid ads or lead service programs, stay ahead of the competition, and guarantee a return on investment for your business. Do not wait until the next emergency situation to start optimizing your website and strengthening your SEO. Contact Peterson SEO, the #1 Chico, CA & Albuquerque SEO company to get started on your SEO journey today!
As a property owner, nothing is more frustrating than facing an unexpected emergency that requires immediate attention. In these situations, you want to reach out to the right emergency restoration company as soon as possible for quick and efficient help. But have you ever wondered how those restoration companies prioritize their clients and respond to…